Fillable Printable Job Description-Sales Manager
Fillable Printable Job Description-Sales Manager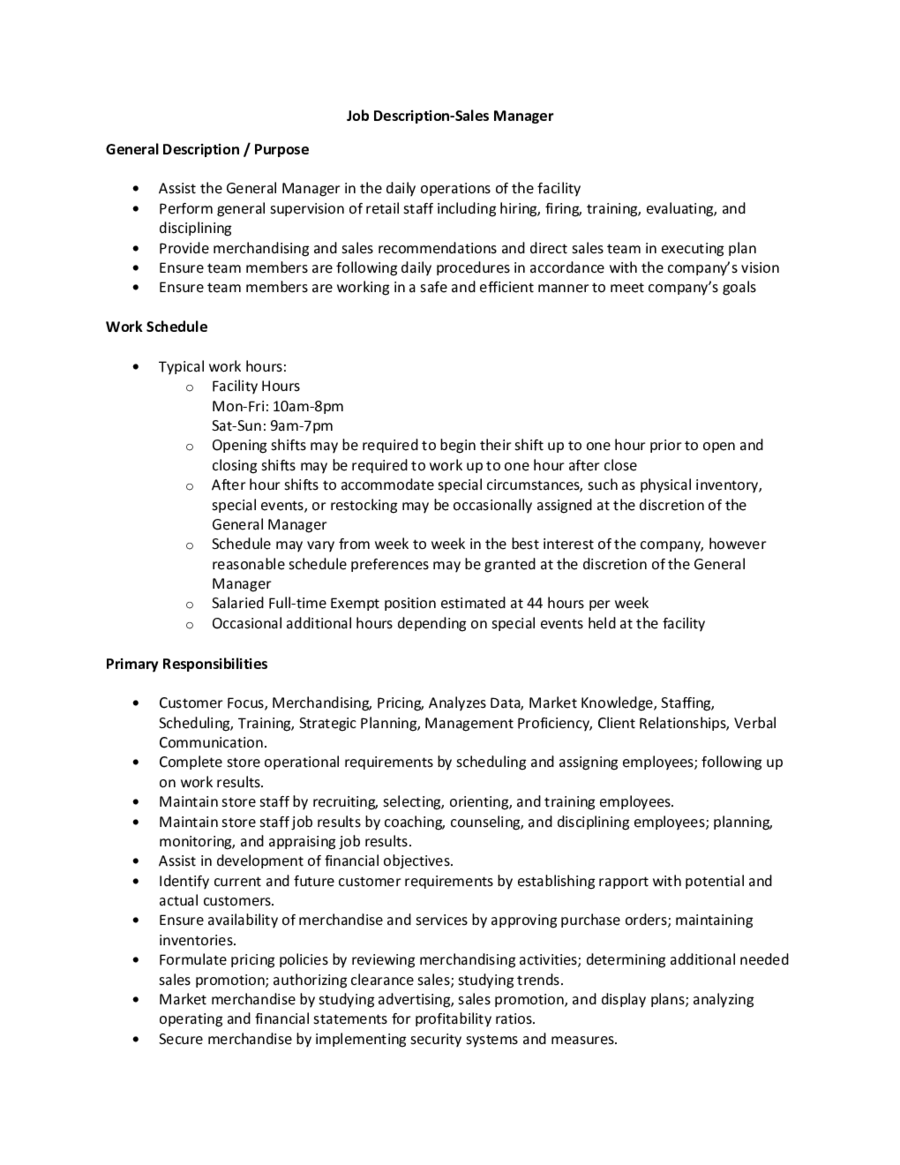 Job Description-Sales Manager
Job Description-Sales Manager
General Description / Purpose
Assist the General Manager in the daily operations of the facility
Perform general supervision of retail staff including hiring, firing, training, evaluating, and
disciplining
Provide merchandising and sales recommendations and direct sales team in executing plan
Ensure team members are following daily procedures in accordance with the company's vision
Ensure team members are working in a safe and efficient manner to meet company's goals
Work Schedule
Typical work hours:
Facility Hours
Mon-Fri: 10am-8pm
Sat-Sun: 9am-7pm
Opening shifts may be required to begin their shift up to one hour prior to open and
closing shifts may be required to work up to one hour after close
After hour shifts to accommodate special circumstances, such as physical inventory,
special events, or restocking may be occasionally assigned at the discretion of the
General Manager
Schedule may vary from week to week in the best interest of the company, however
reasonable schedule preferences may be granted at the discretion of the General
Manager
Salaried Full-time Exempt position estimated at 44 hours per week
Occasional additional hours depending on special events held at the facility
Primary Responsibilities
Customer Focus, Merchandising, Pricing, Analyzes Data, Market Knowledge, Staffing,
Scheduling, Training, Strategic Planning, Management Proficiency, Client Relationships, Verbal
Communication.
Complete store operational requirements by scheduling and assigning employees; following up
on work results.
Maintain store staff by recruiting, selecting, orienting, and training employees.
Maintain store staff job results by coaching, counseling, and disciplining employees; planning,
monitoring, and appraising job results.
Assist in development of financial objectives.
Identify current and future customer requirements by establishing rapport with potential and
actual customers.
Ensure availability of merchandise and services by approving purchase orders; maintaining
inventories.
Formulate pricing policies by reviewing merchandising activities; determining additional needed
sales promotion; authorizing clearance sales; studying trends.
Market merchandise by studying advertising, sales promotion, and display plans; analyzing
operating and financial statements for profitability ratios.
Secure merchandise by implementing security systems and measures.
Protect employees and customers by providing a safe and clean store environment.
Maintain the stability and reputation of the store by complying with legal requirements.
Maintain professional and technical knowledge by attending educational workshops; reviewing
professional publications; establishing personal networks; participating in professional societies.
Maintain operations by initiating, coordinating, and enforcing program, operational, and
personnel policies and procedures.
Contribute to team effort by accomplishing related results as needed.
Open and close facility, balance cash drawers, prepare deposits
Knowledge of company's mission, purpose, and goals.
Ability to operate retail equipment -- cash registers, inventory scanners, telephones, paging
system, and range equipment.
Thorough knowledge of the facilities Security policy and procedures.
Ability to operate, demonstrate and explain merchandise -- Understand and be proficient in
restricted and non-restricted sales, refunds/returns, Consignment, Gift Cards, Member and Non-
Members use of the facilities.
Stay current on product knowledge, general firearms laws and safety procedures.
Understand and be proficient in firearms sales and forms as required by Federal and State and
Local laws; Form 4473, Multiple Handgun Sale (MHS) Form, Call procedures and Response
Implications.
Knowledge of gun rentals, range equipment and, basic gunsmithing.
Knowledge of all rental machine guns and the ability to demonstrate their operation to
customers while supervising the machine gun rental.
Dress appropriately for position adhering to facility dress code.
Other duties as assigned.
Essential Knowledge, Skills, & Education
Strong communication and analytical skills required.
Bachelor's degree in Business or Marketing preferred; High school diploma or equivalent
required.
5 Years Retail experience, experience in similar industry preferred.
Able to understand and create budgets, forecast and other business reports.
Able to create and monitor key performance indicators.
Proven record of successfully growing business in new markets.
Demonstrated experience with consultative sales approach.
Strong drive & competitive nature.
Self-motivated & exceptional organizational skills.
Great Customer Service, communication, and organizational skills.
Must be able to multitask.
Ability and willingness to work cooperatively with others.
Knowledge of Microsoft Office products and telephone protocol.
Complete an annual shooting qualification.
Ability to legally obtain a Florida Concealed Weapons Permit within the 90-day probationary
period.
High degree of discretion dealing with confidential information.
Physical Job Requirements
Stand and/or sit continuously and perform job functions for a full shift with meal break.
Physically able to stand, bend, stoop, kneel, reach, twist, lift, push, pull, climb, balance, crouch,
handle, carry and move items up to 50 pounds without assistance.
Visual acuity corrected to perform job functions. Ability to distinguish color to perform job
functions.
Ability to hear and respond appropriately to facility commands.
This position reports to the General Manager. Additional duties may be assigned and this job description
may change without notice at the discretion of management.