Fillable Printable Job Descriptions Template
Fillable Printable Job Descriptions Template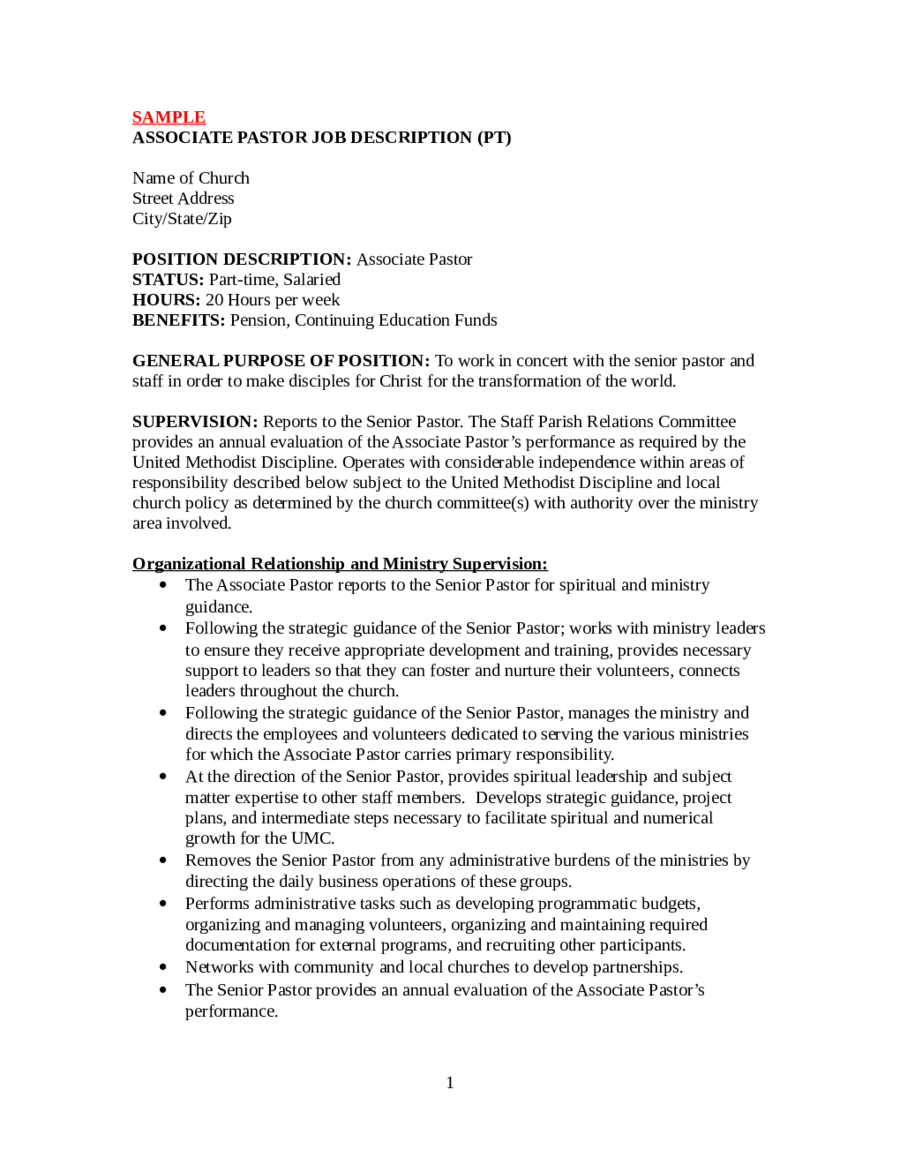 Job Descriptions Template

ASSOCIATE PASTOR JOB DESCRIPTION (PT)
Name of Church
Street Address
City/State/Zip
POSITION DESCRIPTION:
Associate Pastor
STATUS:
Part-time, Salaried
BENEFITS:
Pension, Continuing Education Funds
GENERAL PURPOSE OF POSITION:
To work in concert with the senior pastor and
staff in order to make disciples for Christ for the transformation of the world.
SUPERVISION:
Reports to the Senior Pastor. The Staff Parish Relations Committee
provides an annual evaluation of the Associate Pastor's performance as required by the
United Methodist Discipline. Operates with considerable independence within areas of
responsibility described below subject to the United Methodist Discipline and local
church policy as determined by the church committee(s) with authority over the ministry
area involved.
Organizational Relationship and Ministry Supervision:

The Associate Pastor reports to the Senior Pastor for spiritual and ministry
guidance.

Following the strategic guidance of the Senior Pastor; works with ministry leaders
to ensure they receive appropriate development and training, provides necessary
support to leaders so that they can foster and nurture their volunteers, connects
leaders throughout the church.

Following the strategic guidance of the Senior Pastor, manages the ministry and
directs the employees and volunteers dedicated to serving the various ministries
for which the Associate Pastor carries primary responsibility.

At the direction of the Senior Pastor, provides spiritual leadership and subject
matter expertise to other staff members. Develops strategic guidance, project
plans, and intermediate steps necessary to facilitate spiritual and numerical
growth for the UMC.

Removes the Senior Pastor from any administrative burdens of the ministries by
directing the daily business operations of these groups.

Performs administrative tasks such as developing programmatic budgets,
organizing and managing volunteers, organizing and maintaining required
documentation for external programs, and recruiting other participants.

Networks with community and local churches to develop partnerships.

The Senior Pastor provides an annual evaluation of the Associate Pastor's
performance.
1


The Associate Pastor will be responsible and subject to United Methodist polity
and doctrine, informed by the United Methodist local church policy as determined
by the Charge Conference, Senior Pastor, and Staff Parish Relations Committee.
Qualifications and Aptitudes:
1.
Must embrace Christian discipline and United Methodist doctrine and
theology.
2.
Licensed or ordained by the United Methodist Church.
3.
A master's degree, or the equivalent, in a related field is minimum
requirement.
4.
Two years' experience working in a United Methodist church.
5.
Must have vision and a demonstrated ability to plan, develop, coordinate,
manage and implement ministry within the parameters of the United
Methodist Church.
6.
Must have excellent written and verbal communication skills, conflict
management skills, and computer skills.
7.
Must possess a proven ability to work effectively with congregation, diverse
individuals, and teams of volunteers.
2