Fillable Printable Free Job Description Template
Fillable Printable Free Job Description Template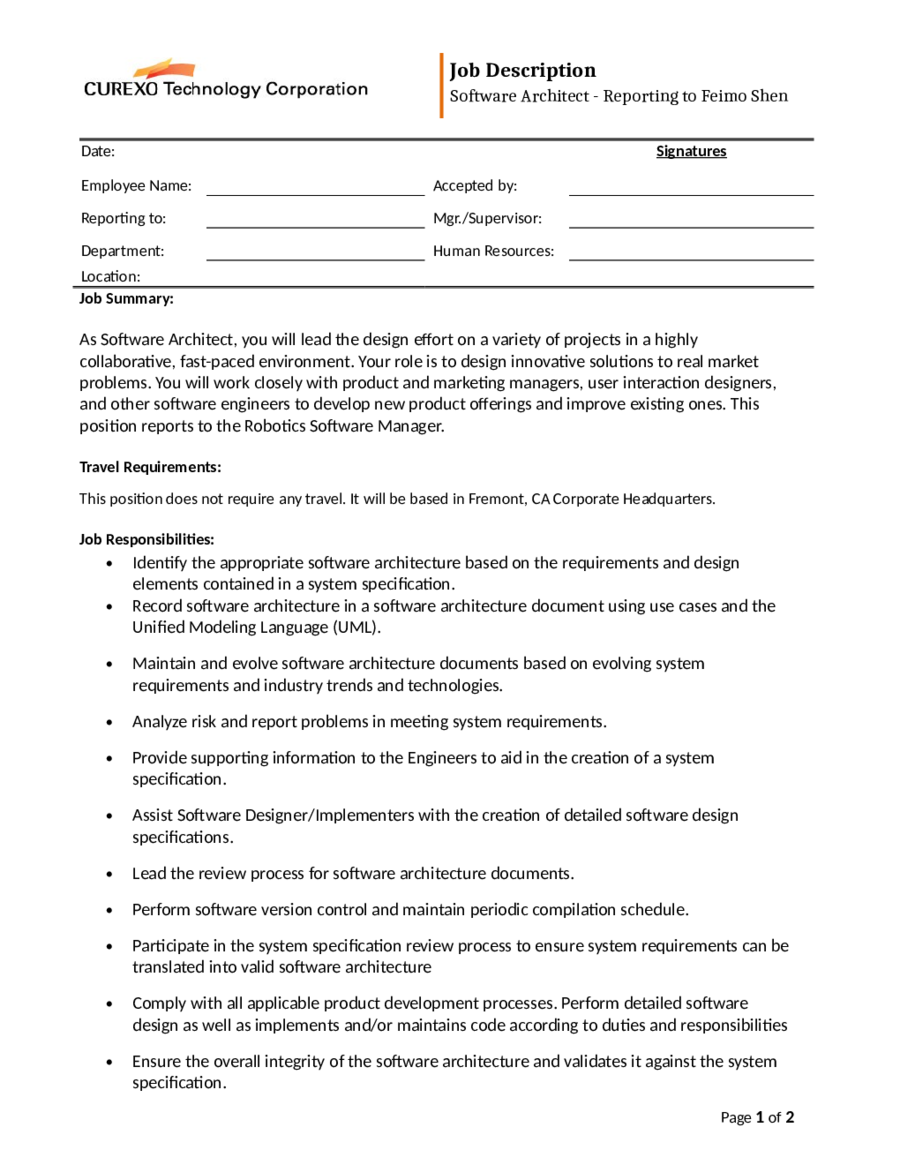 Free Job Description Template

Job Description
Software Architect - Reporting to Feimo Shen
Employee Name:
Accepted by:
Reporng to:
Mgr./Supervisor:
Department:
Human Resources:
Locaon:
Job Summary:
As So!ware Architect, you will lead the design e%ort on a variety of projects in a highly
collaborave, fast-paced environment. Your role is to design innovave soluons to real market
problems. You will work closely with product and markeng managers, user interacon designers,
and other so!ware engineers to develop new product o%erings and improve exisng ones. This
posion reports to the Robocs So!ware Manager.
Travel Requirements:
This posion does not require any travel. It will be based in Fremont, CA Corporate Headquarters.

Idenfy the appropriate so!ware architecture based on the requirements and design
elements contained in a system speci1caon.

Record so!ware architecture in a so!ware architecture document using use cases and the
Uni1ed Modeling Language (UML).

Maintain and evolve so!ware architecture documents based on evolving system
requirements and industry trends and technologies.

Analyze risk and report problems in meeng system requirements.

Provide supporng informaon to the Engineers to aid in the creaon of a system
speci1caon.

Assist So!ware Designer/Implementers with the creaon of detailed so!ware design
speci1caons.

Lead the review process for so!ware architecture documents.

Perform so!ware version control and maintain periodic compilaon schedule.

Parcipate in the system speci1caon review process to ensure system requirements can be
translated into valid so!ware architecture

Comply with all applicable product development processes. Perform detailed so!ware
design as well as implements and/or maintains code according to dues and responsibilies

Ensure the overall integrity of the so!ware architecture and validates it against the system
speci1caon.

Job Description
Software Architect - Reporting to Feimo Shen

Integrate internal and external product design into a cohesive user experience

Work with visual designers to improve and re1ne product visual design and consistency
Qualicaons:

Bachelor's or Master's degree in computer science or related 1eld

At least 5 years experience in large designs and coordinang project teams in medical device
industry

At least 8 years of C/C++ programming experience

At least 3 years of UML experience

At least 3 years of experience with so!ware source control and version control

Experience in 3-dimensional navigaon preferred

Excellent interpersonal and communicaon skills

Mastery of user interacon design skills

Must be organized, have an eye for detail, and be able to put ideas into a tangible form

Ability to priorize and manage work to crical project melines in a fast-paced
environment. Ability to develop new approaches to complex design problems