Fillable Printable Job Description recept
Fillable Printable Job Description recept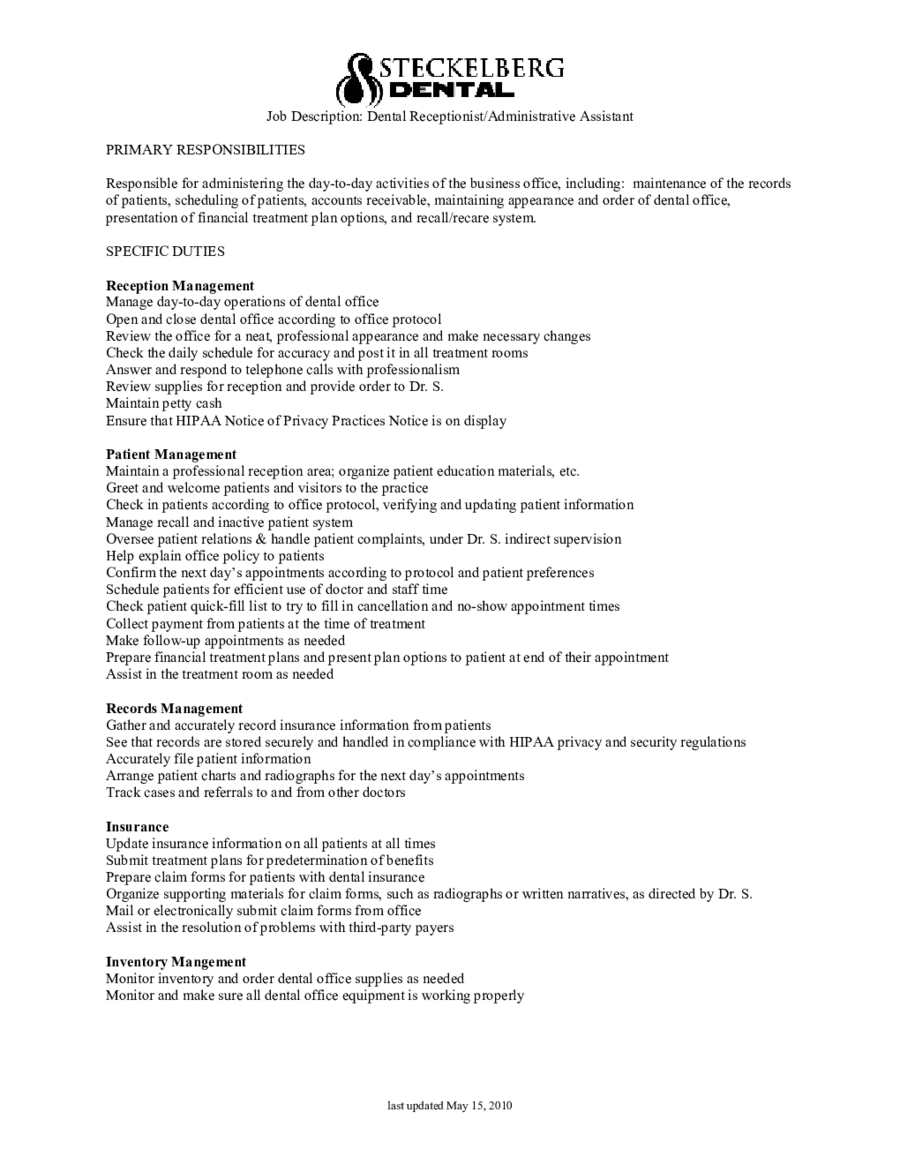 Job Description recept

Job Description: Dental Receptionist/Administrative Assistant
last updated May 15, 2010
PRIMARY RESPONSIBILITIES
Responsible for administering the day-to-day activities of the business office, including: maintenance of the records
of patients, scheduling of patients, accounts receivable, maintaining appearance and order of dental office,
presentation of financial treatment plan options, and recall/recare system.
SPECIFIC DUTIES
Manage day-to-day operations of dental office
Open and close dental office according to office protocol
Review the office for a neat, professional appearance and make necessary changes
Check the daily schedule for accuracy and post it in all treatment rooms
Answer and respond to telephone calls with professionalism
Review supplies for reception and provide order to Dr. S.
Maintain petty cash
Ensure that HIPAA Notice of Privacy Practices Notice is on display
Maintain a professional reception area; organize patient education materials, etc.
Greet and welcome patients and visitors to the practice
Check in patients according to office protocol, verifying and updating patient information
Manage recall and inactive patient system
Oversee patient relations & handle patient complaints, under Dr. S. indirect supervision
Help explain office policy to patients
Confirm the next day's appointments according to protocol and patient preferences
Schedule patients for efficient use of doctor and staff time
Check patient quick-fill list to try to fill in cancellation and no-show appointment times
Collect payment from patients at the time of treatment
Make follow-up appointments as needed
Prepare financial treatment plans and present plan options to patient at end of their appointment
Assist in the treatment room as needed
Records Management
Gather and accurately record insurance information from patients
See that records are stored securely and handled in compliance with HIPAA privacy and security regulations
Accurately file patient information
Arrange patient charts and radiographs for the next day's appointments
Track cases and referrals to and from other doctors
Update insurance information on all patients at all times
Submit treatment plans for predetermination of benefits
Prepare claim forms for patients with dental insurance
Organize supporting materials for claim forms, such as radiographs or written narratives, as directed by Dr. S.
Mail or electronically submit claim forms from office
Assist in the resolution of problems with third-party payers
Monitor inventory and order dental office supplies as needed
Monitor and make sure all dental office equipment is working properly

Job Description: Dental Receptionist/Administrative Assistant
last updated May 15, 2010
Be an active participant in staff meetings
Perform other tasks as assigned by Dr. S.
Accounts Receivable Management
Enter patient financial activity in computer
Maintain accounts receivable activity
Prepare bank deposits
Prepare statements
Follow-up insurance claims
Follow-up delinquent accounts
Arrange payment schedule with patients
Prepare billing statements promptly and accurately mail billing statements as directed by Dr. S.
Prepare and mail overdue account letters as directed by Dr. S.
Telephone patients with accounts overdue
Post checks received each day
Manage patient financial accounts
Sort, organize, and distribute mail
Prepare and send out new patient and referral thank-you letters as directed by Dr. S.
Prepare and send out continuing care notices as directed by Dr. S.
Prepare and send out correspondence as directed by Dr. S.
Marketing and Public Relations Management
May assist with the design of marketing and promotional materials (print and electronic)
May assist with dental office advertising/recruiting ads for new staff
May assist with dental office facility management
High school diploma
2 years office experience desired
Legible handwriting for notations in charts
Good interpersonal skills to maintain effective rapport with patients, dentists, other staff members and community
Effective verbal skills to communicate with patients and staff
Team player
Able to adapt to office policy improvements (office is constantly striving for improved customer care/service)
Conflict resolution experience
Customer service or patient relations experience
Quick response/accurate data entry to present treatment plans to patients in a short time frame
Communicate all concerns to Dr. S.