Fillable Printable Job Description Template Email
Fillable Printable Job Description Template Email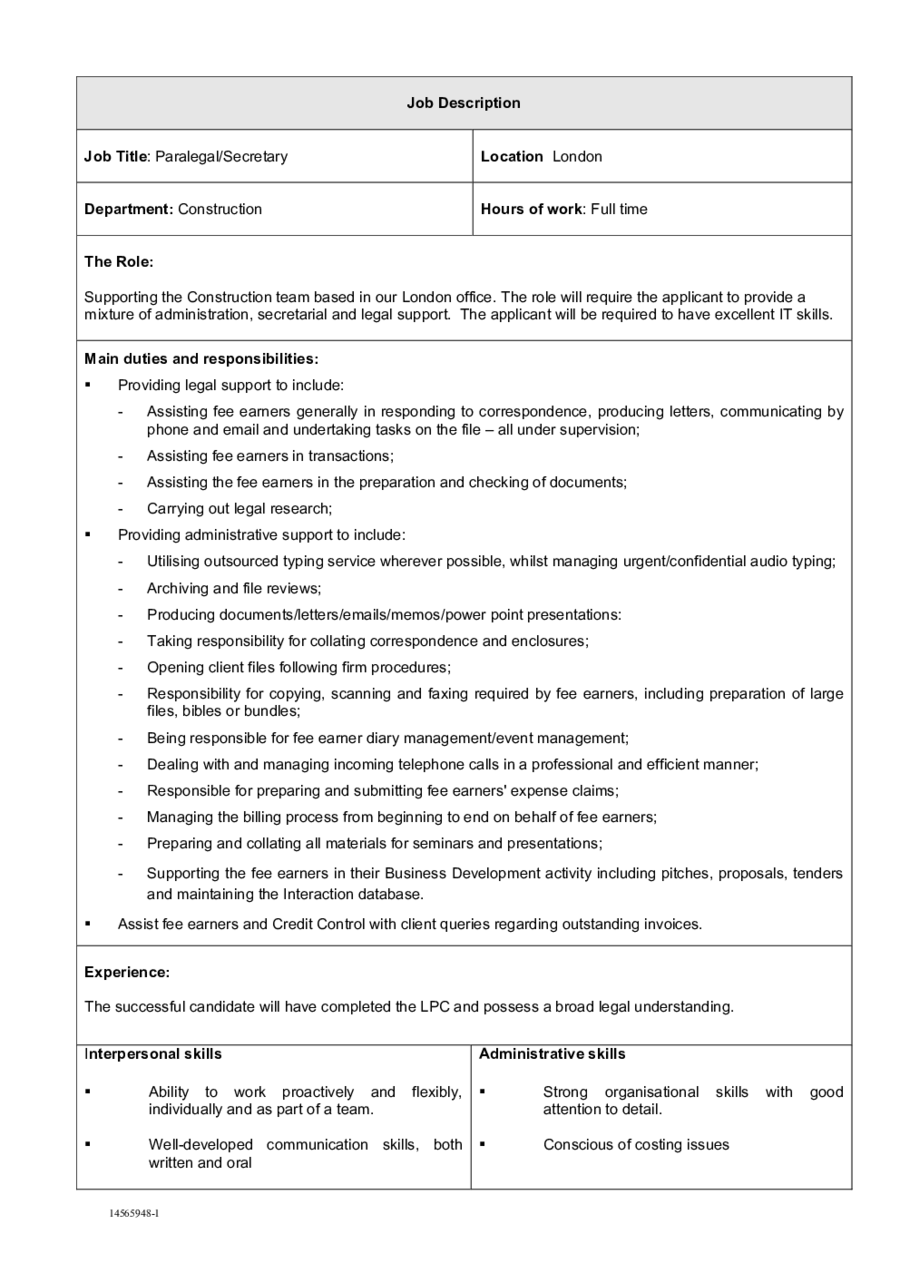 Job Description Template Email

14565948-1
Job Description
Job Title
: Paralegal/

Secretary
Location
London
Department:
Construction
Hours of work:

Full time
The Role:
Supporting the
Construction team based in our London office. T

he role will require the applicant to provide a
mi
xture of administration, secretarial

and legal support. The applicant will be required to have excellent IT skills.
Ma
in duties and responsibilities:

Providing legal

support to include:
-
Assisting fee earners generally in responding to correspondence,

produc

ing letters, communicating

by
phone and email and undertaking tasks on the file
–

all under supervision;
-
Assisting fee earners in transactions;
-
Assisting the fee earners

in the preparation and checking of documents;
-
Carrying out l

egal research;

Providing adm

inistrative support to include:
-
Utilising outsourced typing service wherever possible, whilst managing

urgent/confidential audio typing;
-
Archivi

ng and file reviews
;
-
Producing documents/letters/emails/memos

/power point presentations
:
-
Taking responsibility

for collating correspondence and enclosures;
-
Opening

client files following firm procedures;
-
Responsibility for copying, scanning and faxing required by fee earners, including preparation of

large
files, bibles or bundles;
-
Being responsible for fee earner

diary management/event management;
-
Dealing with and managing

incoming telephone calls in a professional and efficient manner;
-
Responsible for preparing and submitting fee earners' expense claims;
-
Managing the billing process from beginning to end on behal

f of fee earners;
-
Preparing and collating all materials for seminars and presentations
;
-
Supporting the fee earners in their Business Development activity including pitches, proposals,

tenders
and maintaining the Interaction database.

Assist fee earners an

d Credit Control with client queries regarding outstanding invoices.
Experience:
The successful candidate will have completed the LPC and possess a broad legal understanding.
I

Ability to work proactively and

flexibly,
in
dividually

and as part of a team.

Well-developed communication skills,

both
written and oral

Strong organisational skills with goo

d
attention to detail.

Conscious of costing issues

14565948-1

Enthusiastic and approachable

Forward-

planner

–ability to plan

and
document
all work via firm's time

recording

Prioritisation of different projects
Ability to work with minimum supervision and